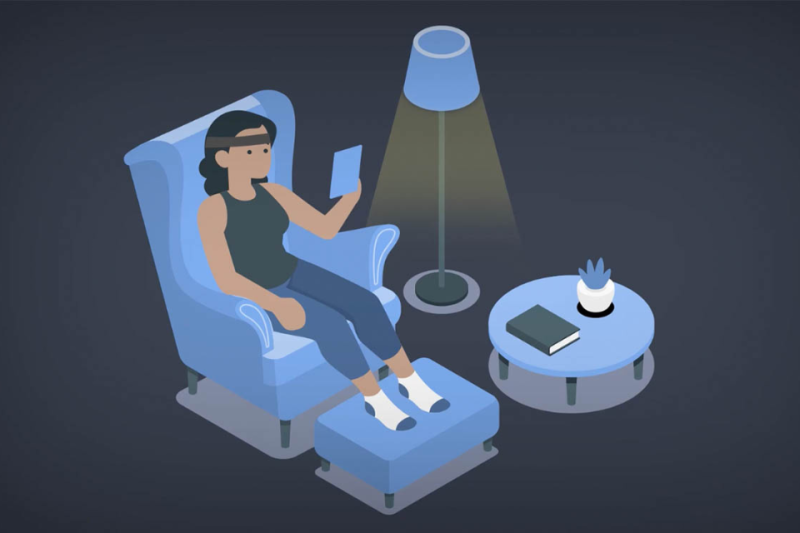 According to the CDC, chronic pain is one of the most common reasons adults in the U.S. seek medical care. Opiates are often used as a pharmacological intervention, but they present a risk of substance use disorder. In an effort to develop an alternative form of treatment, Eric Elbogen, PhD, a professor in the Department of Psychiatry & Behavioral Sciences at Duke University School of Medicine and his team turned to "neurofeedback," or electroencephalograph (EEG) biofeedback treatment. 
In partnership with Durham-based software developer CrossComm, via a Small Business Technology Transfer Program Phase I (STTR) grant, Elbogen's team at Duke launched a trial study for a commercially-ready neurofeedback mobile app that pairs with an EEG headset via a Bluetooth connection. The process uses operant conditioning to train a person to gain control over their brain activity to achieve levels of calmness and mental relaxation in an effort to reduce chronic pain.
The mobile neurofeedback app is currently undergoing testing for feasibility among patients using opioids to treat chronic pain. In collaboration with CrossComm and the National Institute on Drug Abuse (NIDA), the recruiting phase is underway at Elbogen's Behavioral Health & Technology Lab. Thirty patients who have been prescribed opioids for chronic pain will be recruited to download the mobile app on their smartphone and use the intervention for 10 minutes a day, four times a week, for 12 weeks. Coordinators will conduct teleconference sessions with participants at weeks 1, 3, 6 and 9 and collect follow-up data at the end of the 12 weeks. 
Once research is completed for this phase, CrossComm intends to apply for Phase II grant funding so the partnership can continue for possible commercialization of the mobile neurofeedback app in the future.
A prior version of the mobile app was developed by Elbogen as part of a single-arm clinical trial. The app paired with the NeuroSky MindWave EEG headset via a Bluetooth connection to provide an in-home option for neurofeedback training. This helped solve the issue of constant clinic visits for veterans, many of whom live in rural areas.
The pilot study proved mobile neurofeedback to be feasible and effective among a population of veterans with traumatic brain injury (TBI). Research shows that TBI and post-traumatic stress disorder (PTSD) can elevate the occurrence of chronic pain, causing a dangerous combination known as a "polytrauma clinical triad." This mix of symptoms can significantly affect the physical, emotional and social well-being of veterans.
Previous research shows that rewarding certain EEG brain wave frequencies increases the power of those frequencies, causing enduring changes to brain functions. Studies show gaining control over alpha waves through neurofeedback training can treat pain in other conditions such as fibromyalgia, spinal cord injuries and complex regional pain syndrome (CRPS) type 1.
At the end of the three-month trial of mobile neurofeedback for veterans with TBI, the pilot study found significant decreases in pain, anger and sleep disturbance on each respective scale.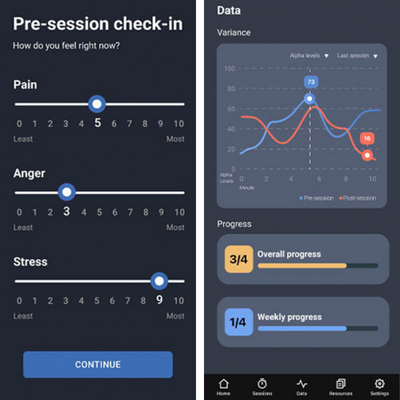 "It was important that what we built honored Dr. Elbogen's scientific vision, while removing variables of discomfort and distraction for the user," said Sara Battles, director of projects at CrossComm. "We prioritized helping Dr. Elbogen's team find hardware that would be more comfortable for participants to wear, and designed the software to be educational, easier to navigate and more enjoyable. Focusing on those design and technology details freed up Dr. Elbogen's team to spend their time on the science."
Based on the feasibility data from the pilot study, CrossComm was able to consult with Elbogen's team to greatly improve the overall user experience. Based on feedback from participants, the mobile app required changes such as improved audio delivery and design. 
The CrossComm team reengineered the binary (on/off) auditory feedback to a gradated custom sound and replaced the existing in-app alert sounds with gentler ones that provide a calm, meditative experience. In addition, they redesigned the interface for better usability and added educational content, including animated app tutorials and instructions for connecting the headset.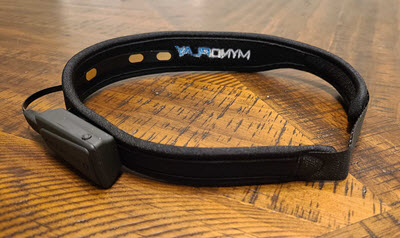 Participants also gave feedback about the discomfort and connection issues they experienced with the previous headset, so CrossComm worked with Elbogen's team to identify different headsets for use. After evaluating the software development kit and considering participant comfort and ease of connection, the team landed on the MyndBand Brainwave Headset. 
"Working with CrossComm has been tremendous," said Elbogen. "Their vision adapting the mobile technology from our lab at Duke is incredibly valuable to ensuring the science we've conducted will be translated into a usable product to help patients successfully manage their pain at home."
Feedback from the pilot, paired with the STTR grant, set the tools up for the current clinical trial's application among patients using opioids to treat chronic pain.