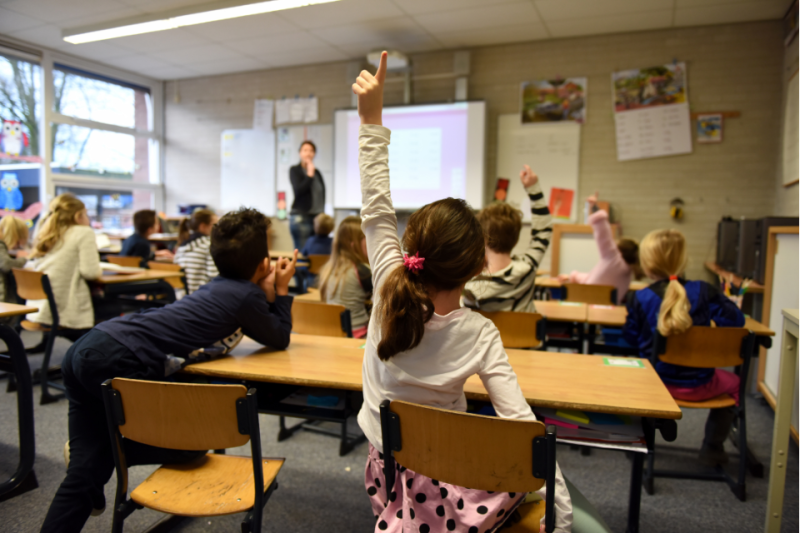 For second-year child and adolescent psychiatry fellow Aishwarya Rajagopalan, DO, MHS, the fellowship's school consultation rotation is a golden opportunity "to engage with a system that plays a really big role in the outcome of the care we deliver and to see what happens 'on the other side,' outside of our clinic," which she says can sometimes feel like a vacuum.
Through her work with students and staff in two local public schools—one elementary school and one middle school—Rajagopalan gets to see children in the environment where they spend most of their days, and where they experience many of their challenges.
"This experience has also helped me recognize how difficult it is to get through the school day for both students and teachers," Rajagopalan reflected. This realization has taken her empathy for children and teachers to a new level and has prompted her to think differently about interventions she may recommend as a clinician.
Helping Students and School Staff Cope
For the rotation, Duke Psychiatry & Behavioral Sciences partners with the Durham Public Schools' Community Outreach Program for Education, or COPE. Each fellow is assigned to two schools and spends a half-day per week providing individual consultation to students, talking with parents and caregivers, performing classroom observation, supporting teachers in managing stress and creating an optimal learning environment for their students, and consulting with school counselors and leaders.
For example, in one school, a number of children in a particular classroom were exhibiting disruptive behaviors, and the fellow met with the teacher to discuss factors that may be contributing to those issues and share strategies and resources for managing them. In another class, Rajagopalan collaborated with school staff to create a visual tool for one of the children to help provide a sense of structure and help him stay anchored during class.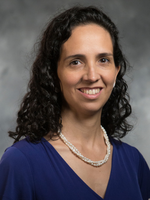 "Through their work in the schools, the fellows learn how to be consultants and how to build a partnership," noted Andrea Diaz Stransky, MD, assistant professor of psychiatry and behavioral sciences, who oversees the rotation. "It's different from what you do in the clinic—as a consultant for the school, you just make recommendations."
The fellows are currently working with COPE in five Durham schools: two elementary schools, two middle schools, and one school with students in grades 6 to 12. Diaz Stransky strives to place each fellow in two schools that will offer different experiences, enabling fellows to understand how a particular school setting may impact a child's behavioral health.
Laying a Foundation for the Future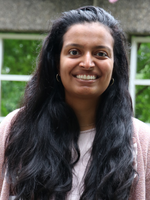 Getting school-based experience as part of her training is particularly critical to Rajagopalan. Her medical school clerkship in the Philadelphia Department of Prisons opened her eyes to the disproportionately high percentage of youth of color in the carceral system. That experience inspired her interest in understanding systems of care and helping to stem the school-to-prison pipeline for youth of color.
"Part of the work I hope to do is to be an advocate for change, and one place that change can happen is within the education system," explained Rajagopalan. "So, of course, the school-based work is related no matter where you go in child psychiatry, but for me, that systems lens is incredibly important."
She envisions promoting changes such as exploring alternatives to suspension, creating more nurturing environments in schools, developing mechanisms to understand students and their challenges more holistically, and promoting health equity in schools by making embedded mental health services the norm.
Reaping Real-Time Rewards
One of Rajagopalan's greatest joys in participating in COPE is the opportunity to see children in their natural environment, where they're smiling and playing with friends on the playground. "That's a dimension I often miss in the work I do. Often times, when kids come to the doctor's office, it's not the most joyful time for them, whether it's because their routine was disrupted or they have negative feelings associated with coming into the office," she reflected.
She also finds it rewarding to help children learn how to advocate for their own needs. She recalls one interaction with a student who shared with her that a strategy they'd discussed—using a stress ball—enabled him to manage his feelings and stay calm in class. "Thanks, Dr. Raj! That was really helpful," he told her the next time they met. 
Expanding the Work beyond Durham
Fellows like Rajagopalan also have opportunities for school-based consultation beyond COPE. Through another initiative, the North Carolina Psychiatric Access Line (NC-PAL), a team from Duke Psychiatry & Behavioral Sciences is partnering with Vance County Public Schools to provide education, insights and resources to school leaders on behavioral health-related challenges they're experiencing in the schools. These issues, identified by school staff, include bullying, disruptive behaviors, depression, and trauma, to name just a few.
Plans are also underway to expand school-based consultations and other related opportunities statewide.
And Rajagopalan is all in: "It's been a really community-engaged and community-informed project, and I think that's what makes it really special," she noted. "Everything that's playing out in the Vance County process is based on a direct ask they've given us—it's a program designed by them, for them, and with them."
Consulting in schools is work that's also very close to Diaz Stransky's heart. "I wanted to be a teacher, actually," she reflected. "I love the school environment, and I really like the idea of meeting kids where they are."