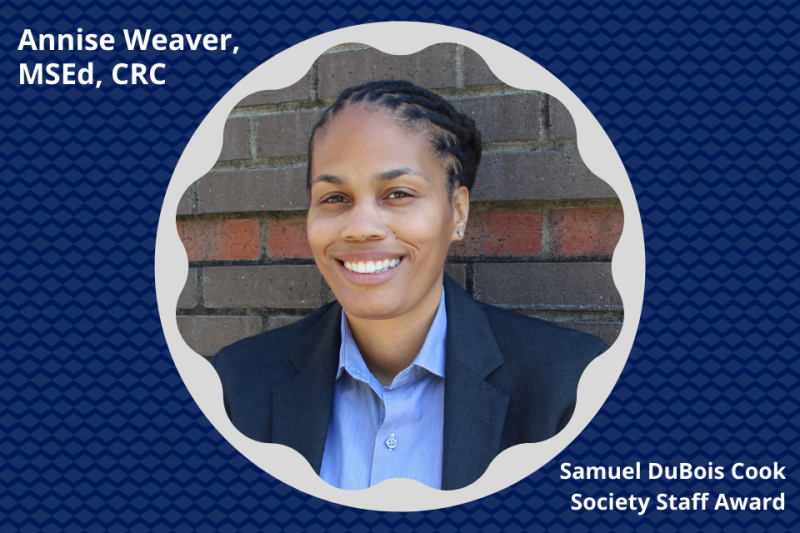 Annise Weaver, MSEd, CRC, director of clinical operations and associate director of diversity, equity and inclusion, has won the 2022 Samuel DuBois Cook Society Staff Award in recognition of her leadership in diversity, equity, inclusion and anti-racism at Duke.
The Samuel DuBois Cook Society was established in 1997 to honor Dr. Cook, a retired Duke University professor who was the first African-American professor to hold a regular faculty appointment at a predominantly white college or university in the South. Each year, the Samuel DuBois Cook Society recognizes community members who follow Dr. Cook's example of social activism and leadership.
Examples of Annise's leadership include her co-facilitation of a monthly support group for BIPOC faculty, staff and learners; leadership of the department's Diversity, Equity, and Inclusion (DEI) Speaker Series; implementation of an Inclusive Staff Search Training; hosting of a 21-Day Racial Equity Challenge; and participation in the School of Medicine's Office of Diversity & Inclusion and DUHS Diversity and Inclusion Councils.
 
She also spearheaded efforts to develop an employee resource group (ERG) to empower Black staff members in the School of Medicine and now serves as the Vice Chair of the ERG. These are just a few of many examples that highlight Annise's deep-rooted commitment to cultivating positive relations, promoting change and fostering community.
 
We're so fortunate to have Annise as part of our community. We're proud of her work in the department and across the School of Medicine and look forward to her continued DEI leadership. Please join us in congratulating Annise on this award!
Watch the awards ceremony, held on Tuesday, February 22, 2022. (Presentation of Annise's award begins at 39:17.)