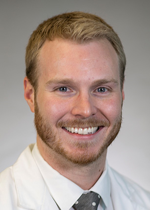 Undergraduate School
Marshall University
Graduate School
Marshall University Graduate College 
Medical School 
Marshall University Joan C. Edwards School of Medicine
Interests and Career Goals
Emergency psychiatry, Consultation/Liaison psychiatry, Addiction, Neurodegenerative diseases and community outreach.    
Favorite Pastimes   
Spending time with wife, family and dog; CrossFit; cooking/baking; camping and hiking; and lover of food trucks.
Strengths of the Program   
A collective of the most warm and welcoming faculty and staff that I have ever experienced. Top-notch co-residents that are constantly willing to guide and educate one another throughout residency. Fully integrated multidisciplinary teams that work seamlessly to provide excellent patient care. Abundant didactic and research options to expand knowledge base.
Research Interests
IDD, Alien-Limb Phenomenon and community outreach protocols