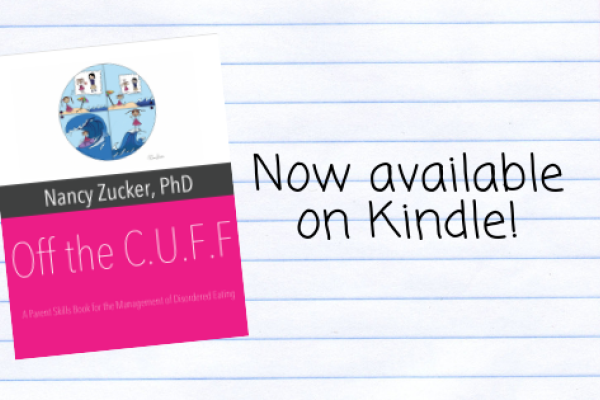 A Parent Skills Book for the Management of Disordered Eating
We are excited to announce that Off the C.U.F.F.: A Parent Skills Book for Management of Disordered Eating written by Dr. Nancy Zucker is now available on Kindle and in paperback from Amazon! All proceeds go to eating disorder research.
"This manual for parents is what is used for the parent support and skills program from the Duke Center for Eating Disorder developed by me, Nancy Zucker. This manual is intended to accomplish four basic goals. First, it gives parents tools to manage moment-to-moment difficulties that arise when they are trying to nourish a child with disordered eating. Second, it gives parents strategies to prevent burn-out and increase their social support. Third, it helps parents to model for their child the ability to listen to and adaptively respond to what their bodies are telling them (e.g., to their hunger or emotional needs). Fourth, it helps parents figure out how disordered eating symptoms may be helping their child to manage difficult situations and feelings. In turn, parents can then provide their children with healthy strategies that can replace these disordered eating symptoms and help their children to flourish.
The program covers all sorts of topics: perfectionism, emotion awareness, family communication – all fun stuff!
While this may all sound challenging, my intention is that this manual presents skills in ways that seem very manageable: straight-forward, hopeful, and a little corny.
I hope you find it useful and wish the best for you and your family."
- Nancy Zucker, Director of the Duke Center for Eating Disorders
---