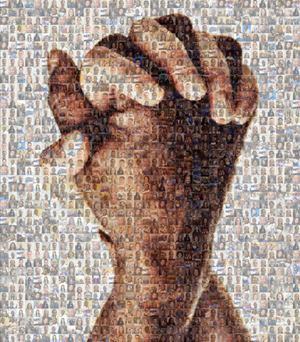 In 2020, Forbes named Duke University one of the "Best Employers for Diversity" for the second consecutive year. Duke ranked eighth out of 500 companies and first for companies headquartered in North Carolina and in the education industry.
We're proud to be a part of this welcoming community, and we'll continue working hard to ensure that all faculty, staff and trainees in Duke Psychiatry & Behavioral Sciences feel valued and appreciated.
Diversity & Inclusion Statement
At the Duke University School of Medicine and in the Department of Psychiatry & Behavioral Sciences, we believe that diversity and inclusion are key drivers of excellence that can accelerate innovation and problem solving.
We're committed to developing and implementing a culture of inclusion in which trainees, faculty and staff from diverse backgrounds experience a genuine sense of security, respect, belonging, engagement and achievement.
We believe that it is our responsibility to train and mentor future clinicians and scientists who reflect, understand and appreciate diversity.
We strive to attract, retain and develop women and underrepresented minority faculty and staff. As we bring more intentional focus to our climate and culture, we aspire to reflect greater diversity in all of our constituents.
In the Department of Psychiatry & Behavioral Sciences, diversity and inclusion are at heart of our strategic plan. All members of our community are expected to uphold these values.
Duke Multicultural Consultation Team
The Duke Multicultural Consultation Team is a community of faculty, trainees and staff members who have developed an intentionally inclusive space designed to increase our capacity to create a healing and wellness home for all of the patients we serve. 
The team is working to create a community of mental health care providers who are committed to providing high quality, evidence-based mental health care that is multiculturally conscious and responsive. Their vision is to become the leading resource for the delivery of high-quality, multiculturally conscious and responsive mental health care and to develop a model for multicultural peer-consultation that can be disseminated widely across a range of diverse settings.
Diversity at Duke, the School of Medicine & Psychiatry
Below are a few videos that highlight the culture of diversity at Duke University and the Duke School of Medicine.
 
Diversity & Inclusion at Duke: Leadership Perspectives
Leaders from across Duke University talk about what diversity and inclusion means to them. 

Diversity & Inclusion at Duke: Medical Student Perspectives
Duke medical students from diverse backgrounds share their experiences at Duke.

Dr. Kafui Dzirasa: A Black Man in a White Coat
As part of a video series designed to inspire more underrepresented minority students to consider the field of medicine, Kafui Dzirasa, MD, PhD, the K. Ranga Rama Krishnan Associate Professor of Psychiatry and Behavioral Sciences, talks about his experience as a physician-scientist at Duke.