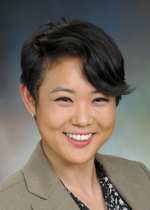 Undergraduate School
University of Houston
Medical School
University of Texas Medical Branch
 
Interests and Career Goals
Balancing clinical work, medical education, and medical humanities research (anthropology of ethics)
Favorite Pastimes   
Home improvement projects, crochet and knitting, Nintendo video games
Strengths of the Program   
Clinician Educator Track, program leadership's transparency and commitment to improvement, culture of resident
Notable Presentations
Mayo, S., Song, Y., Cruz, M., Phan, T.M., Singh, K., Garsin, D., Murray, B.E., Dial, E., Lichtenberger, L.M. NSAID injury to the small intestine is dependent upon bile and is associated with overgrowth of enterococci. Poster presentation.  Digestive Diseases Week 2013, Orlando, FL. May 18, 2013.
Song, Y., Mehta, H.B., Nunez Lopez, O.A,, Bohanon, F.J., Radhakrishnan, R.S.  Effect of Race, Socioeconomic Status and Payer Status on Outcomes and Healthcare Utilization in Gastroschisis Repair.  Oral presentation.  South Texas Chapter American College of Surgeons Annual Meeting 2016, San Antonio, TX.  February 26, 2016.
Song, Y.  Increasing Awareness of Implicit Bias in Medical Education.  Poster presentation. Medical Student Ethics Conference, New York, NY.  March 19, 2016.
Wooten, H.G., Anhalt, C.A., Song, Y.  The "Stranger's Disease": Experiencing Yellow Fever in Galveston, 1837-1897.  Curated museum exhibit.  The Bryan Museum, Galveston, TX.  February 2-April 24, 2017. 
Song, Y.  Performing Femininity in Bikini Bodybuilding.  Oral presentation.  Talking Bodies 3rd Annual Meeting: Institute of Gender Studies at the University of Chester, Chester, U.K.  April 19-22, 2017.
Song, Y.  Implicit Narratives in Gastroschisis Research.  Oral presentation.  National Conference for Physician-Scholars in the Social Sciences and Humanities, Cambridge, MA.  April 29-30, 2017.
Song, Y.  Expressions of Medical Student Burnout Online: An Autonetnographic Study.  Oral presentation.  Calgary Health Humanities Symposium, Calgary, Canada.  October 18-19, 2018.
Publications
Mayo, S., Song, Y., Cruz, M., Phan, T.M., Singh, K., Garsin, D., Murray, B.E., Dial, E., Lichtenberger, L.M.  Sa1958 NSAID Injury to the Small Intestine Is Dependent Upon Bile and Is Associated with Overgrowth of Enterococci.  Gastroenterology. 2013 May; 144 (5): S-344
Mayo, S., Song, Y., Cruz, M., Phan, T.M., Singh, K., Garsin, D., Murray, B.E., Dial, E., Lichtenberger, L.M.  Indomethacin Injury to the Rat Small Intestine is Dependent upon Biliary Secretion and is Associated with Overgrowth of Enterococci.  Physiol Rep. 2016 Mar; 4(6): e12725.
Song, Y.  The Student as the Patient.  Academic Medicine. 2016 Sep; 91 (9): 1231
Tong, Y., Song, Y., Tyring, S.  Resolution of Porphyria Cutanea Tarda in Hepatitis C Patients Following Ledipasvir/Sofosbuvir.  JAMA Dermatology. 2016 Oct 12. doi: 10.1001/jamadermatol.2016.3036.
Song, Y., Mehta, H.B., Nunez Lopez, O.A,, Bohanon, F.J., Rojas-Khalil, Y., Bowen-Jallow, K.A., Radhakrishnan, R.S.  Race and Outcomes in Gastroschisis Repair: A Nationwide Analysis.  Journal of Pediatric Surgery. 2017 Nov; 52(11).  doi: 10.1016/j.jpedsurg.2017.03.004
Song, Y.  The Medical Student Manifesto.  Pedagogy and Theatre of the Oppressed Journal.  2017 Summer; 2.
Song, Y.  Rituals in Medicine: The Morbidity and Mortality Conference.  Journal of Ritual Studies. 2018 32(1): 1-10.
Song, Y., Crowder, J. Memes in Medical Education: Making Sense of Professional Authority. Medical Anthropology Theory. 2019. doi.org/10/17157/mat.6.2.672
Song, Y. "This isn't being a doctor." - Qualitative inquiry into the existential dimensions of medical student burnout. Medical Science Educator. 2020 July. doi.org/10.1007/s40670-020-01020-0
Mantri, S., Song, Y., Lawson, J.M., Berger, E., Koenig, H. Moral injury and burnout in health care professionals during the COVID-19 pandemic. The Journal of Nervous and Mental Disease. 2021 April. Published ahead of print. doi.org/10.1097/NMD.0000000000001367