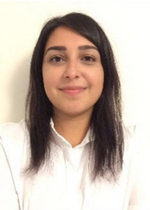 Undergraduate School
Meredith College

Medical School
Univerzita Karlova LÃkaÅ ská fakulta v Plzni
Interests and Career Goals
Child & adolescent psychiatry, understanding cultural stigmas towards mental illness and implementing strategies to help reverse those stigmas, community outreach and working with veterans.
Favorite Pastime
Reading crime thrillers with a cat on my lap, hiking, traveling, photography, trivia games, spending time with my family, listening to music and watching a good soccer match.
Strengths of the Program
Diversity! This program has the most diverse group of residents and faculty who are from all over the world. It's so important to train in a program like this because it will teach you cultural competence, and how to work with people from different backgrounds. There are also a lot opportunities for residents to give feedback, which will not only continue to help strengthen the program for current residents, but for future residents as well.