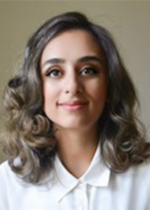 Undergraduate School
University of Calgary
Medical School
University College Cork
Interests and Career Goals
Child & Adolescent Psychiatry Consult Liaison 
Favorite Pastimes
Traveling and exploring new cultures, trying different foods and meeting new people!  
Strengths of the Program
Faculty with extensive experience in broad areas, strong psychotherapy training as well as the Child & Adolescent Fellowship program.    
Publications
The effect of racism on mental health in the immigrant and refugee population in North America: A scoping review. University of Calgary.
Audit of Obesity in GP Setting, University College Cork, Ireland.
Lost in Translation? The potential psychobiotic Lactobacillus rhamnosus (JB-1) fails to modulate stress or cognitive performance in healthy male subjects," Brain, Behavior, and Immunity.
Examining relative facial emotion and gender recognition in individuals with depressive and bipolar symptoms. Honours Thesis, University of Calgary.
Neural plasticity in the A1 region of mouse auditory cortex. Undergraduate Student Research Project presentation, University of Calgary.
Three-dimensional tonotopic organization of the C57 mouse cochlear nucleus, Hearing Research.
Poster Presentation
Drug metabolism in c. elegans as a model organism for h. contortus, SURE Program Research Presentation.