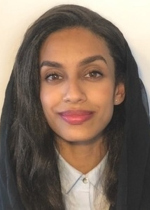 Medical School
University of Medical Sciences & Technology

 
Interests and Career Goals     
Global mental health and cultural stigmas toward mental illness, mood and anxiety disorders, psychotherapy, mind/body connection and working with minority populations.
Favorite Pastimes   
Drawing and painting, creative writing, literature, personality theory, crocheting, listening to music, sci-fi, being outdoors in nature, traveling, physical fitness, being a cat-mom and food! 
Strengths of the Program   
Resident diversity! Working alongside and connecting with co-residents hailing from all walks of life and all corners of the globe. An atmosphere of genuine openness and mutual support amongst both residents as well as faculty.