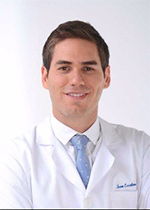 Medical School
Universidad del Valle, Colombia
Interests and Career Goals
Public and community psychiatry, Addiction Psychiatry, Global Health.
Favorite Pastimes
Hiking, mountain biking and futbol.
Strengths of the Program
Well grounded training, broad research opportunities, strong medicine foundations.
Publications/Abstracts
Francisco J. Bonilla-Escobar; AndrÃs FandiÃo-Losada; Julián Santaella-Tenorio; Daniel TobÃn-García; Ivan D. Escobar-Roldan; Edgar J. MuÃoz-Morales; Lori Babcock, MPH; Eva Duarte-Davidson, MA; Judith K. Bass, Laura K. Murray, Shannon Dorsey, Maria Isabel GutiÃrrez-Martínez, Paul Bolton. A Randomized Controlled Trial of a Transdiagnostic Cognitive-Behavioral Intervention for Afro-descendants Survivors of Systemic Violence in Colombia. Plos One. 2018; PubStatus: Submitted.