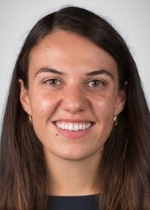 Undergraduate School
University of California Berkeley  
Medical School
SUNY Downstate
 
Interests and Career Goals
Consult-liaison, palliative care, neuroimmunopsychiatry, adolescent psychiatry
Favorite Pastimes
Hiking, meditation, cooking, eating, hanging with friends, improv comedy.
Strengths of the Program
On interview day, it felt like the one place I could totally be myself. Academic rigor balanced with a lot of fun.
Areas of Prior Research
Physician wellness
Publications
(2020) Monaghan TF, Kavoussi AM, Agudelo CW, Rahman SN, Michelson KP, Bliwise DL, Lazar JM, Birder LA, Alwis US, Vande Walle J, Wein AJ, Blaivas JG, Weiss JP, Everaert K. Nocturnal Urine Production in Women with Global Polyuria. International Neurourology Journal, Accepted.
(2016) Jung Ho Lee, Adriana Kavoussi, Yong Eun Chung, Sung Phil Chung, Incheol Park, Chul Hoon Kim, Je Sung You. Hypothermia inhibits the propagation of acute ischemic injury by inhibiting HMGB1, Molecular Brain   
(2016) Park Jina, Lee Nayoung, Kavoussi Adriana, Seo JT, Kim CH, Moon, SJ. Ciliary Phosphoinositide regulates ciliary protein trafficking in Drosophila, Cell Reports.
(2014) Theckumparampil Nithin, Elsamra Sammy E., Carons Akinwunmi, Salami Simpa S., Leavitt David, Kavoussi Adriana, Motola Jay, Smith Arthur, and Okeke Zeph. Symptoms After Removal of Ureteral Stents Journal of Endourology 29(2), 246-252.
Poster Presentations
Kavoussi AM, Khondakar NR, Kumar V, Feola J, Viswanathan R, Monaghan TF, Weiss JP Comorbid Depression, PTSD, or Anxiety Have no Significant Influence on the Etiology of Nocturia Among men at a Urology Clinic Suny Downstate Annual Research Day (Submitted- postponed due to COVID).
Kavoussi A, Heard J (Copresenters), Goldman A, Powderly K, Pato M, Meyers M A Peer Driven Curriculum for Wellness and Resilience in Medical Education. Powerpoint Presentation Keck School of Medicine USC Innovations in Medical Education 2/15/20.