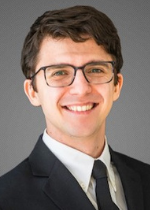 Undergraduate School
Emory University 
Medical School
Icahn School of Medicine at Mount Sinai
 
Interests and Career Goals
General psychiatry, addiction, medical education, community outreach, psychopharmacology and healthcare technology.
Favorite Pastimes
Spending time with my family, tinkering with technology, running, biking, rock climbing and flying trapeze.
Strengths of the Program
A deep sense of community among the residents, faculty and staff. Excellent training at variety of clinical sites with a strong emphasis on mentorship and personal feedback. Outstanding leadership with a genuine commitment to diversity, wellness and growth.